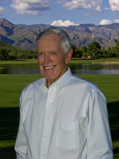 Bill was raised in Port Huron, Michigan . He and his wife Ann Laurie moved the family to Tucson in 1962. He and partner Jerome Shull started a real estate-insurance firm in Tucson in 1964. The firm specialized in commercial real estate development and larger fire and casualty insurance risks. Bill acquired his Arizona real estate license in 1964. He, his wife Ann Laurie, and youngest son Edward comprise 'Partners in Prime', which is an established, experienced, and respected residential real estate partnership through Long Realty Company of Tucson.
Community involvement has always been part of Bill's life. In 1980 the Community Foundation for Southern Arizona was founded (CFSA). Bill helped establish the foundation and served on the early boards. His father Edward R. Moore was one of the four founding members. CFSA is a philanthropic organization and is now approximately $125,000,000 in size and is one of the fastest growing community foundations in the United States. It is served by hundreds of volunteers. The foundations web site address is http://www.cfsoaz.org
Bill was president of the United States of America Foundation during the 1980's. Its goal was to draw public awareness to the federal budget deficit and resulting national debt. The foundation worked closely with the League of Women Voters holding town-hall type community meetings.
Bill, his wife Ann Laurie, and community leader Morgan Maxwell Jr. served as Arizona state co-chairmen for Rockefeller for President in 1968. Tucson is located in Pima County and Bill served as Pima County Republican Chairman (a volunteer position). Bill was an Arizona delegate to the Republican National Convention in 1972. Bill has run 5 marathons including the Boston Marathon.